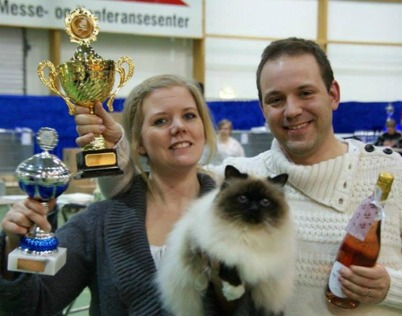 My name is Carolin Björkman. Me and my husband Fredrik lives in a small town called Alingsås in the southwest of Sweden, not far from Gothenburg. We live in a house in the country along with our beautiful Birmans. Fredrik is 40 years old and works as an IT-consultant in Gothenburg, I am 34 years old and own a small veterinarian clinic.

I have had Birmans and an interest in breeding all my life, my parents was also breeders of Birmans and horses. Me and Fredrik bought our first common Birman in 2006, it was a beautiful chocolate point girl by the name S*Snömolnet's Ramona (Molly), and in the summer of 2007 she became the mother of our first litter.

Our cattery's name, S*Eikefjord's, comes from my maiden name, Eikefjord, and was registered in the spring of 2007, This is how our little breeding started. Our wish is to keep the breeding rather small with a maximum of 3 litters/year and focus on health and really good type and look.